4th of July Treat: Patriotic Mini Pies on Sticks
Clearly, from my recent posts, I have a soft spot in my heart for childhood treats. When these babies were finished, they tasted like Pop-tarts. Strawberry Pop-tarts, which were always the best ones. I loved these so much that I am even going to give you all the cheater notes. And by this I mean the shortcuts to make them in about 15 minutes. While I am a strong advocate for making everything from scratch, I also realize that most people don't love to spend all day in the kitchen (whaaaat???). So, you can follow my long direction (highly recommended route) or you can go out on your own with pre-made pie dough, strawberry jam (at least buy the good kind) and a cookie cutter.
Mini Pies on Sticks
Pie Dough:
(adapted from Fool Proof Pie Dough, Cooks illustrated 2007)
3 cups of all purpose flour
1/2 tsp salt
3 tbs sugar
10 tbs butter (1 stick plus 2 tbs), cut into cubes
1/2 cup shortening
1/4 cup vodka
1/4 cup cold water
Strawberry Filling:
1 cup of sugar
1 tbs corn starch
3 tbs unsalted butter
2 cups of diced strawberries
Egg Wash:
1 egg white
1 tsp water
plus 2 tbs sugar for sprinkling
Royal Icing:
1 egg white
1 tbs lemon juice
1.5 cups powdered sugar
PLUS:
16, 6 inch wooden skewers
Really, if you have the time, homemade pie dough is the jam. It is so far superior to that store bough nonsense that it could stand on it's own. You could even make cookies out of it and eat it plain. I have been over this before but there are a few pie dough rules that one must never deviate from:
1. Cold dough will always cook better than warm.
2. The less it is worked with, the more tender it is. Don't overwork your dough.
3.  Using vodka creates a flakier crust because it cooks off completely, unlike water.
First, food processors are great at getting the job done as quickly as possible, and as previously mentioned, the more you mess with dough the tougher it becomes. So break out that food processor and add 2 cups of the flour, salt and sugar and give it a quick pulse until it's combined.
Add the cubes of butter and the shortening and pulse until combined, about 1 1/2 minutes. A mix of shortening and butter gives a good flavor and texture.
Now, if you have a larger food processor that mine, then add the remaining flour and pulse until it gathers around the blade. MINE is tiny and I need a new one. So if you are in the same boat as I am, just transfer it to a bowl and add the remaining flour by hand. (if you have a nice big guy food processor, transfer to a bowl after you add the remaining flour)
Then add the water and the vodka and squish it into the dough until its all combined. Your dough will be very moist, but you can add a bit of flour if it is too moist to hold together. Then split into two evenly sized disks and wrap in plastic wrap, and chill for at least 2 hours.
To make the filling, add the sugar and cornstarch to a pot and stir quickly to combine. Add the butter and strawberries and stir over medium heat until the berries are broken down and the sauce is thick and dark. Allow to cool
Once the dough has chilled, roll it out on a floured surface. If it breaks up, which it may since it is a pretty flakey recipe, just smoosh it back together with your fingers. Cut out your desired shape, 3-4 inches seems to be ideal. I used stars because of our upcoming I Heart America holiday, as well as 3 inch circles. Place the bottom circle on a baking sheet covered with parchment paper.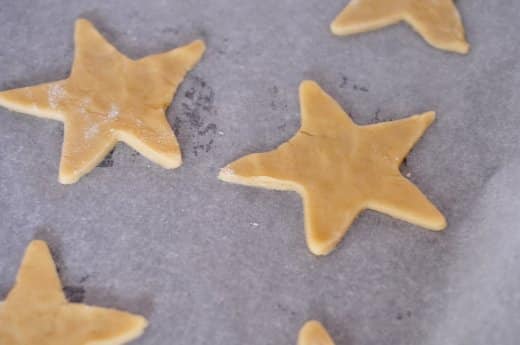 Place the stick more at least halfway up into your shape and top with a spoonful of the sauce.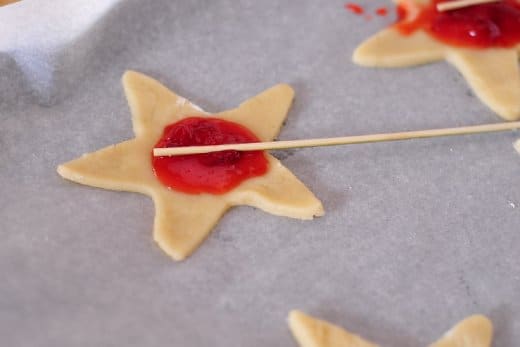 Now, quickness is key at this point. Place a matching shape on top and smoosh the edges together.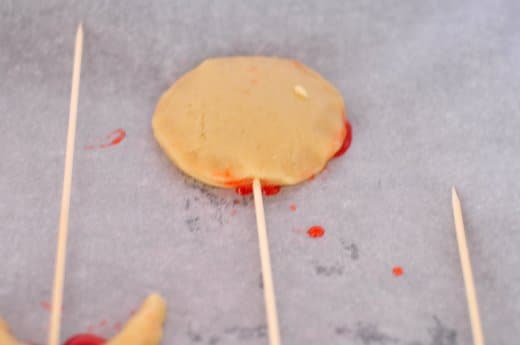 I had some red and white straws left over from Taters party that I bought from Sweet Lulu's that I used for sticks on a few of the pies. I wasn't sure it they would bake well so I only did a few. I just pinched the  top shut and placed it on the star cutouts. I liked them so much that the ones that had boring ol' 6 inch wooden skewers were covered with those cute striped straws to match. Refrigerate your pies for at least 30 minutes.
In a small bowl, beat the egg white and the water until combined. Brush the tops with the egg wash and sprinkle with sugar.
Bake for 20-25 minutes or until the tops are goldeny brown.
Allow to cool. If the filling leaks out, its OK. Just try and cut around the shapes with a sharp knife before trying to remove from the pan.
In a small bowl, combine the royal icing ingredients and stir until well combined. Top the pies with the icing and then with the sprinkles of your choice.