10-minute Beer Bread Cinnamon Rolls
10-minute Beer Bread Cinnamon Rolls: Takes ten minutes to get these in your oven!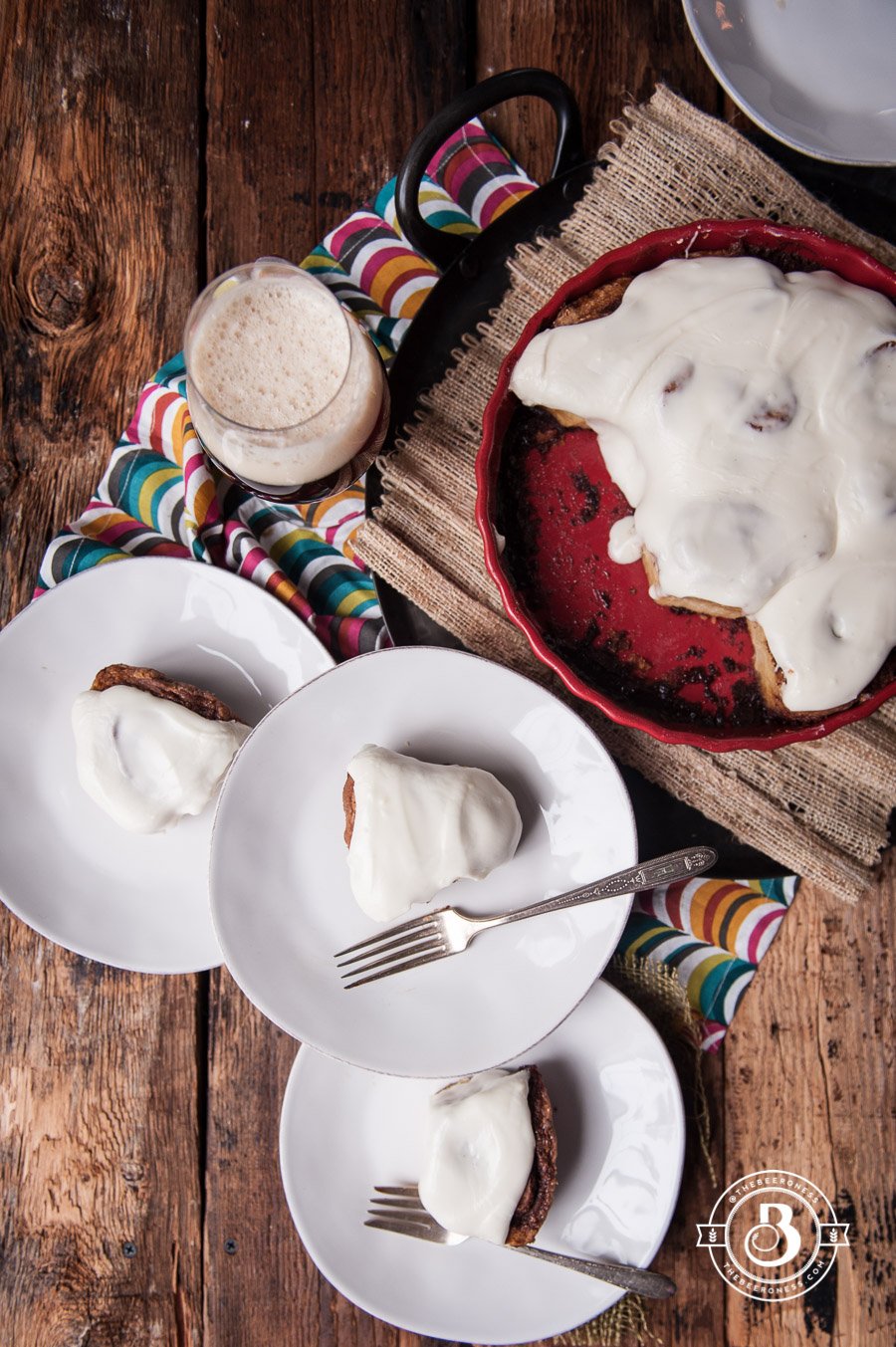 It started years ago, when, for a brief moment, I was trying to be less weird and figure out if "normal" was my bag. For some reason, cinnamon rolls seems like something normal people did on Christmas. I grew up with a weird family, I had a weird job before I started my current weird job that necessitates that I do things like this.
It was during a conversation with my older sister (the one I was with when I almost died in Morocco), in the midst of a life crisis. For some reason, the answer seemed to be cinnamon rolls. It seemed to me, at the time, that normal-people traditions would mend a part of me that I figured was broken. She, being the type of person to love others more than she has ever found a way to love herself, sent me a cinnamon roll pan in the mail along with a "secret ingredient" which turned out to be dry milk powder. The pan broke during a move when I was living in Los Angeles, but the milk powder still finds its way in my traditional yearly cinnamon rolls. In fact, that conversation was the basis for the first recipe in my first cookbook.
I've messed with the recipe for cinnamon rolls a few dozen times, mostly because Christmas and cinnamon rolls feel like home to me. This recipe doesn't use the milk powder that I reserve for the versions that use a yeast dough, but it doesn't matter. It's a quick and easy way to get that fix that brings me an odd comfort. Even though there is no longer a part of me that seeks to change any of my abnormal qualities, I seek out the odd in other people. But it doesn't matter who you are: cinnamon rolls and beer are just good.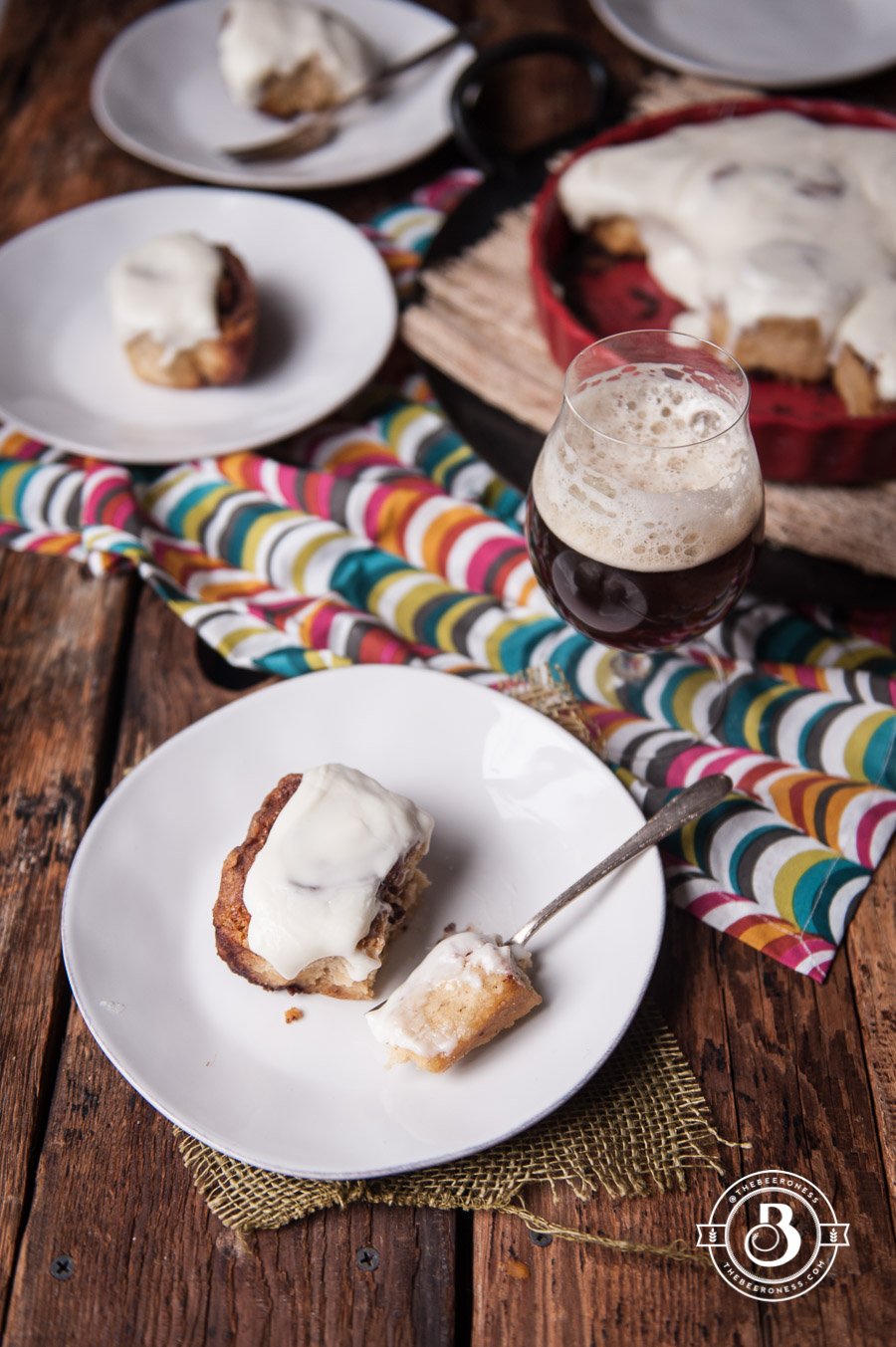 10-minute Beer Bread Cinnamon Rolls
Takes ten minutes to get these in your oven!
Ingredients
Cinnamon rolls:
3 1/4

cups

all-purpose flour

plus additional

2

teaspoons

baking soda

2

teaspoons

baking powder

¼

cup

sugar

1

teaspoon

salt

12

ounces

winter ale

or wheat beer
For the filling
½

cup

butter

softened

2

tablespoons

cinnamon

½

teaspoon

nutmeg

¼

cup

brown sugar

½

cup

white sugar
Icing:
4

tablespoons

butter

softened

4

tablespoons

cream cheese

2

cups

powdered sugar

1

teaspoon

vanilla extract

1

tablespoon

whole milk
Instructions
Preheat the oven to 350.

In a large bowl stir together the flour, baking soda, baking powder, sugar, salt, and beer until a ball of dough forms. Add to a lightly floured surface, (if the dough is excessively sticky, cover with a generous amount of flour, kneading until it's no longer sticky, adding more flour when needed) knead lightly until the ball comes together. Gently roll into a large rectangle.

In a small bowl stir together the butter, cinnamon, nutmeg, brown and white sugar until a paste forms.

Spread the paste in an even layer on top of the dough rectangle. Roll along the long edge to form a long log.

Cut into 10-12 rings. Place cut side up in a baking dish that has been lightly greased.

Bake for 25-30 minutes or until the tops are golden brown.

In a small bowl beat together the butter and cream cheese until well combined. Add the powdered sugar, vanilla and milk, beat until well combined.

Pour the icing over the cinnamon rolls in an even layer, serve immediately.
Notes
*To make ahead: make the cinnamon rolls, place in the pan, cover and refrigerate until ready to bake, up to two days. Do not bake until ready to serve, cinnamon rolls do not keep well. The icing can be made up to three days in advance, keep refrigerated until ready to use.