1 Minute Microwave Cupcake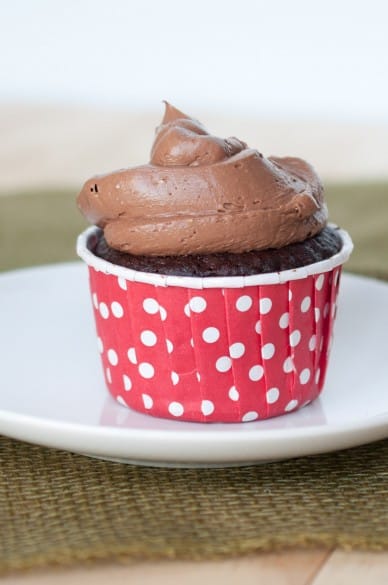 Microwave mug cakes first cake into my consciousness about 10 years ago through the pre-facebook existence of the email forward. I found them to be completely smarmy, the culinary equivalent of a Jerry Springer episode. My first though was, "Oh, yeah like I need QUICKER ways to get fatter." Email deleted.
But then I found myself in my new place, without the gas turned on yet, but with a new microwave and the urge to celebrate.
I caved.
I made my little family microwave cupcakes to celebrate the move and the fact that I was finally back in a kitchen. Just remember that if you find yourself with unexpected guests and only about 5 minutes to whip up a dessert, this is a viable option.
The secret to making these Smarmy Mug Cakes in cupcake form, is the baking cups. I love the crap out of these things. I always use them to make cupcakes because they are much cuter than the regular cupcake papers, and they don't need muffin tins, just place them on a baking sheet and fill to half capacity. These were left over from Taters, Lets Have A Ball party and bought them from Sweet Lulu, but you can also buy plain white ones on Amazon. The trick is to only fill them half way.
Smarmy Mug Cake, Cupcake Edition
1/4 cup dark chocolate chips
2 tbs butter
1 egg
1 tbs oil
1 tbs milk
1/4 cup sugar
pinch of salt
2 tbs cocoa powder (unsweetened)
2 tbs flour
1/8 tsp baking powder
Frosting:
1/2 cup (4oz) cream cheese
1/4 milk
1/3 cup powdered sugar (plus more if you want it sweeter)
2 tbs cocoa powder
(if you don't like cream cheese frosting, heat 3 tbs milk or cream in the microwave until steamy, then pour over 1/3 cup chocolate chips, stir until melted. Pour the chocolate sauce over the cupcake. It will be messy, but delicious)
(Makes 3)
In a microwave safe bowl, add the chocolate chips and the butter. Microwave for 20 seconds, stir and repeat until melted.
In a separate bowl, add the egg, oil, milk, sugar and salt and beat with a fork until well combined. Add the melted chocolate and stir again. Sprinkle the cocoa powder, flour and baking powder over the egg mixture and stir again with the fork until well combined.
Distribute equally between three baking cups (standard cupcake papers will not work). I also added 4 chocolate chips to the very center of each cupcake to make a bit of a molten center. Microwave on high for 1 to 1.5 minutes. The "cooking" time will depend largely on the power of your microwave. Mine took 1 minute 15 seconds.
You want to let the cupcake cool a bit because right out of the microwave they are screaming hot. While they cool, make the frosting. Add the milk and the cream cheese to a bowl and beat on high until smooth and creamy. Then add the powdered sugar and the cocoa powder and beat until combined. Add the frosting to a zip lock bag and cut about 1/2 inch off the bottom corner. Pipe the frosting into the cupcake. Serve with a fork.
Eat immediately. Right away. I'm serious.
Like Domestic Fits on Facebook