Last month California Strawberry Commission generously paid my way to BlogHer Food conference in Austin Texas. As conferences usually go, the memories of the people and food stand the brightest in my mind. The bloggers from all over the globe, the friends I usually only see online, and the food I've been reading about for years were right in front of me.
The highlight of the actual conference sessions was a fantastic workshop on food preservation and how to use more food, and waste less. This was not only a reminder to me of how much food I waste, but a call to action on what can be done with those food scraps that usually go in the trash or compost bin.
Kate from the Hip Girls Guide to Homemaking is a brilliant source of knowledge on the subject and taught us how to make fruit vinegar (amazing in salad dressing!) like this Strawberry Vinegar on her site. I got me thinking about a strawberry extract, or a strawberry syrup. I love baking with strawberries and I love Italian Sodas, but those syrups always have so many chemicals!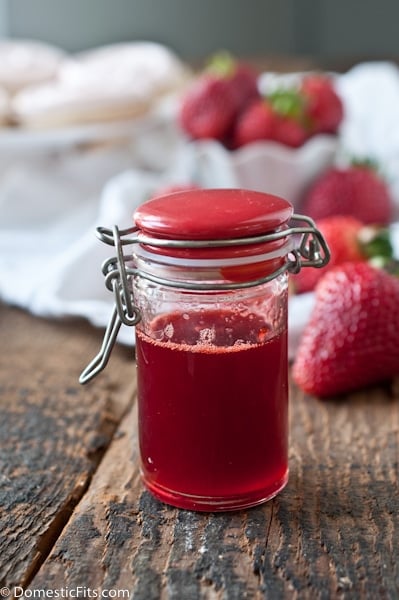 Syrup is also a great use of in-season strawberries. Those giant flats of gorgeous berries are being sold at bargain prices right now, but sadly, the berries don't stay beautiful as long as we'd like. Once the berries start to lose their luster, you don't have to toss them! There are a lot of fantastic ways to use those up, like making a beautiful syrup that you can store in the fridge, or even freeze for use in colder months when strawberries are harder to come by.
At the farmers market last week, I came into ownership of about 3 pounds of strawberries, much to the delight of my strawberry obsessed daughter. Once the shine started to fade, I used most of what was left to make this syrup and froze what was left.
These cookies turned out beautifully, just as soft as I wanted with a hint of fresh strawberry syrup.
Don't forget to enter the California Strawberries Pin To Win contest to win some cash!