This grilled guacamole isn't just a product of my grill junky status, grilling avocados is a fantastic idea and the perfect way to get some of that wonderful smoke flavors into your favorite summer dip. After all, the 4th of July is right around the corner, and next to Thanksgiving, it's America's favorite reason to take a day off work, eat too much food, and spend the day with people we love.
Of course meat was made for the grill, but vegetables have an ever better transformation when cooked with fire. When comes to grilling, anything goes, don't forget about how amazing fruit is when it has a bit of char, or even slices of pound cake. Don't discount pizza, it's quick and fabulous off the grill.
Try something new next time you break out your grill, who knows, you might just find a new way to impress your guests.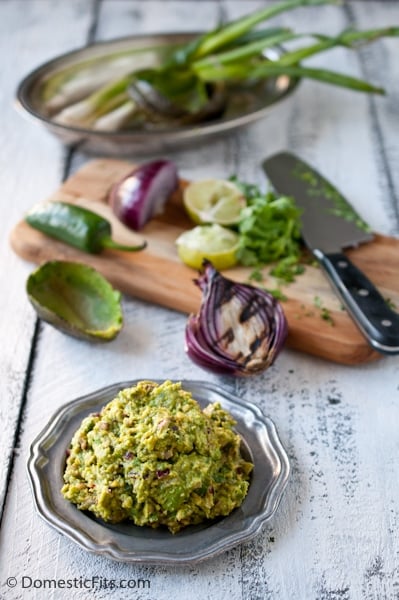 What I'm making for 4th of July:
Roasted Potato, Bacon and Blue Cheese Salad
Ingredients
4 avocados, ripe but firm
½ red onion
2 tbs olive oil
1 tbs fresh squeezed lime juice
¼ cup cilantro
1 jalapeno, chopped
1 tsp hot pepper sauce
¼ tsp smoked paprika
¼ tsp chili powder
¼ tsp salt
½ tsp pepper
Instructions
Preheat grill to medium high.
Cut the avocados in half lengthwise, remove the pit. Bush the cuts side of the onion half and the avocados with olive oil.
Put the onion and avocados on the grill, cut side down, close the lid. Grill until dark grill marks appear, about 5 minutes.
Chop the red onion. Scoop the avocado into a bowl, add the chopped onions along with the remaining ingredients and mash until combined.
http://domesticfits.com/2013/07/01/grilled-guacamole/
Copyright DomesticFits.com